The culture at FTT is not centered on selling memberships and simply teaching classes based on the latest trend. It's about building a dedicated, supportive fitness community. Our core belief centers around creating a unique, comfortable environment that engages our customer which is something that big box gyms cannot duplicate. When you arrive at our training facility you will feel the sense of community and dedication. We are always striving to continuously develop innovative programs that focus on taking care of our FTT fitness community.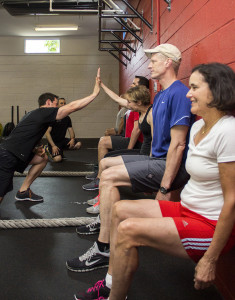 _________________________________

     We train hard but we do it together…


     and can laugh at ourselves
     while we are laying on the floor
     in a pool of sweat
     after a serious, hard core workout.       
     _________________________________
Our dedication

to our community is based on several key principles…
Innovative, creative methods and techniques for living strong and staying healthy.
Dedicated owners and staff on-site for your support and source of professional advice.
Comfortable, happy environment that suits everyone — and we mean EVERYONE.
Empowering our community to progressively hit markers they never thought they would ever be able to do.
We want to help develop inner strength and self-confidence, as they are key to living a healthy, well-rounded life.