I began training young athletes right out of college. I first was an athletic trainer and dealt with injuries and rehab mainly.  As my career path changed, I went on to training athletes who were healthy and ready to get stronger and faster.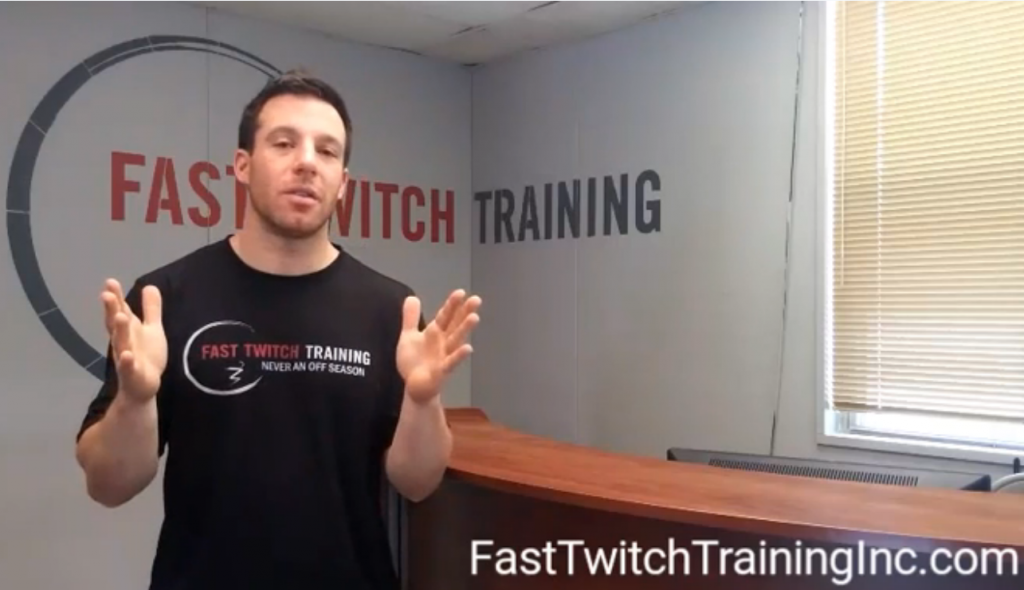 When I first began, a handful of kids showed up to our one- or two-hour speed camps.  The level of athlete tended to be the kid who was dedicated to sports and had some level of college sport in mind while trying to stay on top of their game in high school so they could potentially earn a collegiate scholarship.  At this point, young athletes weren't seeking the strength part of working out and, to be honest, and there was not the kind of general knowledge for training athletes back then as there is today.   
How We Started Our Athletic Training Program…
In 2006, I opened Fast Twitch Training. At this point, the level of athletes was about the same.  Slowly and surely, though, I noticed young athletes started to show interest in the strength component—but  generally these kids were getting on their college teams one way or the other.  Working with us was just one of the many avenues they were taking to get an edge. 
Somewhere between 2006 and 2010, I noticed a shift.  The higher level kids were not coming to us as much, yet more of the kids who were the next level down and even a bit lower in athletic ability were seeking us out.  In addition, I found that more female athletes were seeking strength and speed training (and the females were in most cases performing at a higher level than the males). 
Today, the demand has shifted dramatically. I can run speed camps every day, all day, year in and year out, and there's a constant flow of kids.  What I'm finding is the demand for sports has been a lot harder on kids, and I'm hearing parents express this as well. I was completely surprised by how this trend took hold. The team sport environment is so much more competitive, so much more cutthroat.  No longer can you just be a good athlete and make the team, you have to put in all sorts of extra work.  Kids feel like they'll be left out if they do not have the skill sets other kids have. They are forced to specialize at a younger age; and parents are being fed these promises that their kids are college bound on scholarship.  In a way, it is a shame that things have become this stressful, that it is hard to be part of a team without this extra training. There is a lot to be said for just being a kid and having fun with your peers without the added pressures of making your after school training before practice, then team or travel team practice, then home work.  Kids today have a much harder schedule than I did. 
It really has been a trickle down effect.  This type of speed and strength training was once saved only for Olympic athletes, and then professional athletes, then division 1 college athletes. Eventually it trickled down to middle school kids. It's now just part of the process of their yearly training regime.  Where once upon a time it was all about playing for your school team and getting some friends together at the park to play the pick up version; now everyone is scheduling time at facilities with trainers to make sure their kids will not lose that spot on the team next year.  The industry has certainly changed.  
The good side of this? (Well isn't there a good side to everything?!) Athletes of all levels are finding their way to Fast Twitch because they need to be more athletic in order to be part of team sports. These days, I get to see a lot of kids who are not higher tier athletes coming through our system. It's fantastic when they do, because I definitely see them improve, and I definitely see them get more play time. I love working with that level of kids and seeing them succeed. So in a way, it's also great that more kids are getting the chance to experience the speed work, agility work, and the strength training. It is a great thing that every athlete has access to the type of training that will hopefully lead to a longer healthier life, even if they do not go on to play collegiate sports.  
And the saving grace for me?  The kids we do train here honestly love it.  They want to work, it stimulates them, motivates them, and that is a great thing to see. I am proud to be a part of this growing industry and to watch Fast Twitch Training leading it in the right direction. 
[embed_popupally_pro popup_id="2″]